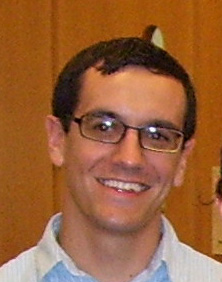 Name: Dan Brennan
Title and Duties: Special Collections Assistant IV, responsible for cataloging and processing of University Archives collections
Recent projects: Processing the Department of Oriental Studies Records, Department of Music Records, Department of Politics Records, Office of Government Affairs Records, and Dean of Undergraduate Students Records, as well as tying together the last stages in the processing of the University Library Records. I am also currently working on a project, with much help from my students Sarah and Josh, to make some sense of the many additions to the Historical Photograph Collection that we have received in the last few years.
Interesting work anecdote: Though not exactly a work anecdote, almost a year prior to my coming to Mudd I did a bit of research on the history of the Princeton Art Museum for a graduate school project that put me briefly in touch with the archives. If I search far back enough in my e-mail inbox, I can find a message from Dan Linke answering my reference question. Little did I know…
Worked at Mudd since: May 1, 2006
Why I like my job/archives: My educational background is in history and political science (plus a grad degree in museum studies) so working at Mudd is a natural fit for me. I feel lucky that I get to work on a daily basis with collections in which I have a legitimate interest, and which cover topics from colonial America to plasma physics. Finding new ways to provide access to them and increase their research value to our patrons is the most rewarding part of my job, especially since I get to see the results of this firsthand through my reference work.
Favorite item/collection: Though I'd be hard pressed to pick a favorite, one small collection that I have a particular fondness for is the Princeton Print Club Records. The short-lived 1940s campus organization arranged for students to borrow from the club's collection of art prints for the purposes of decorating their dorm rooms. Obtaining the prints was accomplished largely by simply writing letters to the artists and asking them if they might have a copy. When cataloging this collection my interest in museums/art history compelled me to look through the entire folder of correspondence, unearthing interesting letters from Ansel Adams, Thomas Hart Benton, and many others.