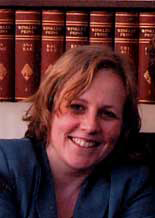 Name: Helene van Rossum
Title and Duties: Special Collections Assistant. Processing collections, organizing exhibitions, and "all other duties as assigned!"
Recent projects: I processed recent additions to the John Van Antwerp MacMurray Papers , which included about 1500 photographs taken by MacMurray while Secretary to the U.S. Legation in Peking (1913-1917) as well as 16 mm films that were shot in 1928 and 1929, when MacMurray served as a minister to China (1925-1929). Dan Linke and I curated an exhibition about MacMurray's years in China, which included selections of the photographs and films, as well as documents and letters from the John Van Antwerp MacMurray Papers (October 20, 2007 through January 18 2008).
Worked at Mudd since: 1997
Why I like my job/archives: Handling the papers that people left behind is as if you are looking over their shoulder. It is like traveling in time! I love finding the stories behind the papers and passing them on to others.
Interesting work anecdote: Through my ten year old son–a dinosaur expert since he was four–I knew of Roy Chapman Andrews, the famous explorer who found dinosaur fossils in Mongolia and on whom the character of Indiana Jones was loosely-based. When I started preparing for the exhibition on John Van Antwerp MacMurray in China, to my astonishment, I found that MacMurray had not only accompanied Andrews' 1928 expedition out of Kalgan (China's gateway to Mongolia), but actually filmed the event. The movie revealed a quite spectacular entourage: a crew of 37 people, eight cars, and 150 camels–and because MacMurray had made arrangements for Andrews' safe passage with the local warlord–they were escorted by 50 Chinese cavalrymen. Still, my son found it all a bit underwhelming. He offered me a small model dinosaur skeleton to liven up the photographs on display.
Favorite item/collection: Louis Fischer Papers
Other information:
Outside my Mudd hours I am a children's book writer and a shadow puppeteer