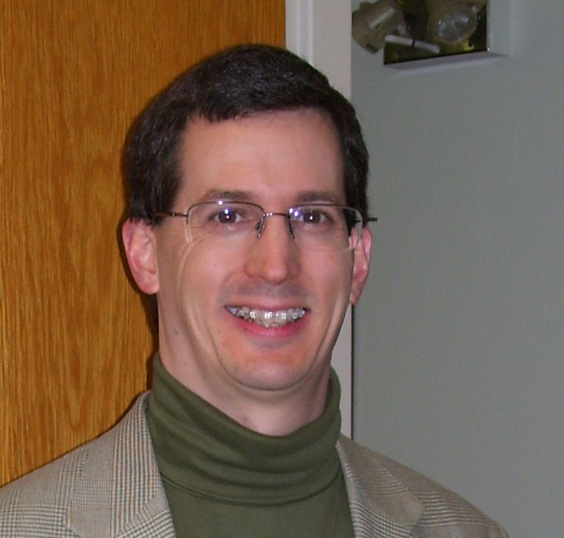 Name: Daniel J. Linke ("Dan")
Title and Duties: University Archivist and Curator of Public Policy Papers. Oversee the operations of the Mudd Library which includes reference, technical services, exhibitions, and collection development, as well as representing and promoting Mudd Library within the University and to the public at large.
Worked at Mudd since: December 27, 1993. Promoted to current position July 2002.
Ongoing projects: Directing the James A. Baker III Oral History Project; planning the celebration of the University Archives 50th Anniversary in 2009; and advocating for an electronics record management program, in conjunction with a full-time records manager to be hired.
Why I like my job/archives: Mudd's holdings are broad and deep, in both the Public Policy Papers and the University Archives, and something interesting is always happening at Princeton. As a manager, I am also grateful for my smart and self-motivated staff.
An interesting work anecdote: For the Baker Oral History Project, I arranged to have former ABC White House correspondent Sam Donaldson interviewed by former Washington Post White House correspondent Lou Cannon. It was a pleasure sitting in the room with these two people who were old friends swap stories about covering the Reagan administration. Donaldson was exactly as you saw him on TV with David Brinkley back in the day: brash, funny, and quick, but with a certain impish charm.
Favorite item/collection: There are many. At the moment, when I give tours, I like to show Jacqueline Kennedy's letter to Adlai Stevenson dated Dec. 4, 1963, Earl Gideon's letter to the ACLU, and the Princeton flag that Pete Conrad '53 took to the moon with him on Apollo 12.
Other information: I am one of three "Dans" working at Mudd, and though born the earliest, I do not like being called "Old Dan."