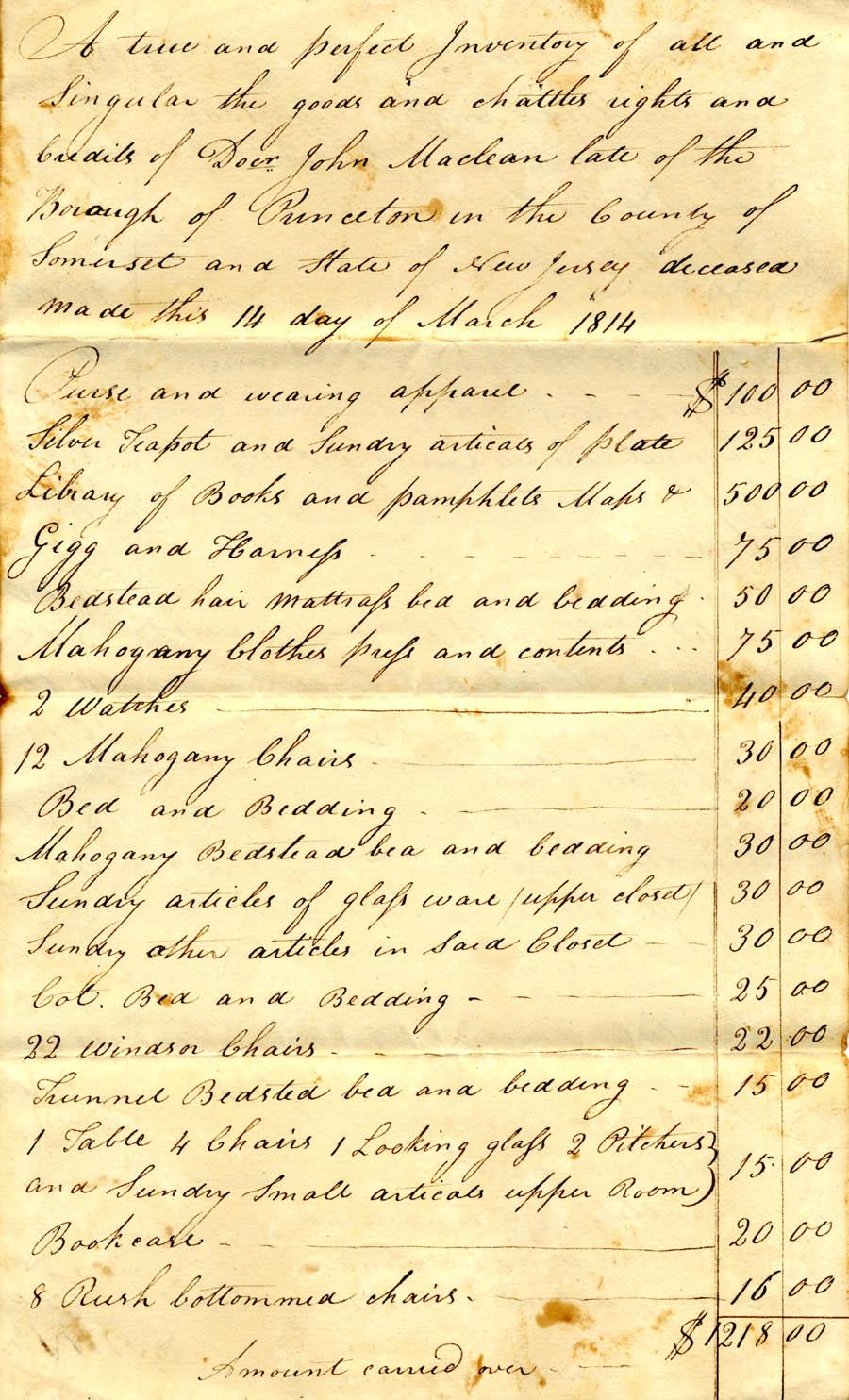 A significant collection of John Maclean, Jr. Papers has been acquired by the University Archives, thanks to the generosity of 11 Princetoniana Committee members. Maclean, President of the College of New Jersey from 1854-1868, saw the College through trying times such as the Nassau Hall fire of 1855 and the Civil War years. At the heart of the new collection are scores of letters written to Maclean during his tenure as President. The content of the letters ranges from official business of the President to personal matters of individual students. The collection also includes materials pertaining to Maclean's parents and extended family, such as an 1814 inventory of the possessions of Maclean's late father, the College's first chemistry professor [See image of John Maclean Sr.'s inventory of possessions, top].
The papers complement Maclean material already held in the University Archives in the Office of President Records. "These papers represent a significant addition to our holdings on John Maclean, both in quantity and quality," said University Archivist Dan Linke. "Maclean was an important figure in Princeton's history, serving on its faculty and as an administrator for over 50 years. I am pleased that members of the Princetoniana Committee recognize this acquisition's significance and that they continue their generosity in support of the Archives."
Those who supported the acquisition are Steven Brown '77, Dave Cleaves '78, Scott Clemons '90, Donald Farren '58, Jan Kubik '70, Gregg Lange '70, Sev Onyshkevych '83, Cynthia Penney '83, Robert Rodgers '56, Jonathan Sapan '04, Paul Sittenfeld '69 and Frank Sloat '55.
A preliminary finding aid for the papers is available online. Mudd staff will process the collection this spring and a full description of the collection will be available by the summer.
Visit here or here for more information on John Maclean Jr.
Related Collections:
Office of the President Records, 1746-1999 (bulk 1830-1869, 1933-1957) Finding Aid (AC117)
John Maclean Letters and Papers, circa 1750-1890 Finding Aid (CO342)