The list below includes information on items and collections accessioned in May and June 2008. As always, anyone interested in additional information about the accessions listed below should contact the library through our general email account.
Public Policy Papers
John Van Antwerp MacMurray Films, circa 1926-1928
ML.2008.016
Allen Macy Dulles Papers, 1940-2007
ML.2008.017
United States Senators Photographic Negatives, 1956-1980. Includes images of Howard Alexander Smith '01, Bill Bradley '65 and George McGovern.
ML.2008.018
Allen W. Dulles Papers Accrual, 1926-1968. Consists of correspondence between Allen Welsh Dulles and George Gaevernitz regarding the making of a film about Operation Sunrise in World War II. Also includes a document purported to be a forged Bank of England twenty pound note produced in a World War II era concentration camp. (see image below.) ML.2008.019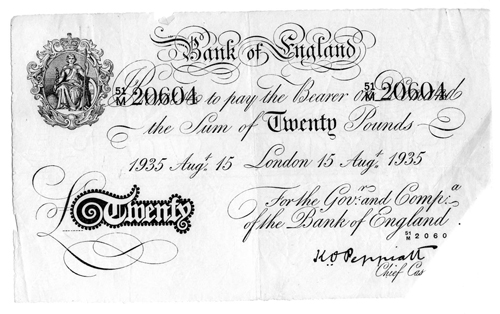 Marten Van Heuven Speaking Notes, 2007-2008
ML.2008.020
Margaret Snyder Papers Accrual, 1977-2005
ML.2008.021
Princeton University Archives
Clarence Porter Cowles and Woodrow Wilson Digital Images, 2008
AR.2008.045
Class of 1873 Student Photograph Album, 1873
AR.2008.046
John Archibald Wheeler Digital Images, undated
AR.2008.047
Michelle Obama Digital Image, circa 1985
AR.2008.048
Princeton Tiger Editorial Board Photograph, 1947
AR.2008.049
Class of 1909 Ceramic Mugs, undated
AR.2008.050
Class of 1945 Mini-Reunion Trip Photographs and Letter, 2008
AR.2008.051
Photographs by Marie Bellis, 1969-1975
AR.2008.052
John Cobb Cooper Papers, 1917-1966
AR.2008.053
Physics Notebook of Robert H. Dicke, Class of 1939, circa 1935-1939
AR.2008.054
Princeton University Library Records Cotsen Children's Library Accrual, circa 2003-2004
AR.2008.055
Class of 1971 Twenty-fifth Reunion Survey Materials, 1990-1996
AR.2008.056
Stuart R. Stevenson Letter and Charter Club Document, 1917, 1943
AR.2008.059
Photocopied sources on James West Clark, Class of 1779, 1762-1996
AR.2008.060
Princeton University Store Bookmark, circa 1988
AR.2008.061
Digital Video Recording of Opening Reception for Robert Goheen Library Exhibit, 2006
AR.2008.062
Robert F. Goheen Memorial Service Programs and Audio Recordings, 2008
AR.2008.063
Opening Reception Program for Exhibition: The Alternative is Not Possible to Contemplate, Eleanor Roosevelt and a Vision of Freedom and Peace, 1985
AR.2008.064
Subject Index of the Library of Industrial Relations Section and J. Douglas Brown, A Record of Service Booklet, 1951-1959
AR.2008.065
Commencement Publications and Reunion Photograph, 1932-1946
AR.2008.066
Tom Reed Graphic Illustration: Dragons and Tigers and Dreams, Oh Yes! 2008
AR.2008.067
Reunions 2008 Program, Fan and Alumni Council Meeting Agenda, 2008
AR.2008.068
John Maclean, Jr. Papers Accrual, 1790-1890
AR.2008.069
Class of 1973, 35th Reunion Women's Bandana, 2008
AR.2008.070
Chronicle of News Coverage On the Planning and Opening of Whitman College, 2008
AR.2008.071
George A. Vaughn, Jr. Papers, 1941-1991
AR.2008.072
Class of 1978, 30th Reunion Potato Chip Bags, 2008
AR.2008.073
Princeton School Committee Slide Show, 1967-1975
AR.2008.074
Admissions Materials, 1940-1944
AR.2008.075
Programs for the Princeton's 16th Annual Summer Carillon Series, 2008
AR.2008.076
Digital Video Recordings of Reunion Activities and Lacrosse Game, 1927-1934
AR.2008.077
The Princeton Connection, A Century of Princetonians in Greensboro, Vermont, 1996-1999
AR.2008.078
Princeton Association of Northern Ohio Records, 2003-2007
AR.2008.079
Alumni Association Accrual, 1961-2008
AR.2008.080
Princeton University Library Records Cotsen Children's Library Accrual, 1996-2007
AR.2008.081
Dean of the College Student Academic Files and Tulane University Visiting Student Files, 1943-2008
AR.2008.082
Dean of the College Student Academic Files from Whitman College, circa 2004-2008
AR.2008.083
Dean of the College Student Academic Files from Forbes College, 2004-2008
AR.2008.084
Office of the Treasurer Finance Committee Meeting Materials, 1999-2003
AR.2008.085