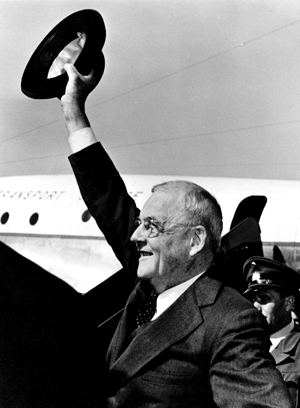 "John Foster Dulles: From Diploma to Diplomat," a new exhibition at the Seeley G. Mudd Manuscript Library, celebrates the centennial of John Foster Dulles' graduation from Princeton University in 1908 with a chronicle of his diplomatic career and his influence on U.S. foreign policy. The exhibition opens Monday, Aug. 11, and runs through Friday, Jan. 30.
Based on the life and work of Dulles (1888-1959), it begins with his work while still a Princeton student as secretary-clerk of the China delegation at the Second Hague Peace Conference in 1907 and culminates with his service as secretary of state for President Eisenhower from 1953 to 1959.
Drawing predominantly from the John Foster Dulles Papers, as well as other related Mudd Library collections, the exhibition tracks his diplomatic career that spanned both World Wars and the Cold War. As a young diplomat, Dulles participated in the Treaty of Versailles negotiations after World War I. Following his involvement in studies on fostering world peace during the 1940s, he also served as the U.S. representative to the United Nations and negotiated several treaties for President Truman, including the Japanese Peace Treaty of 1951 which formally ended World War II. As Eisenhower's secretary of state, Dulles ushered in a period of hard-line diplomacy that shaped both the country's relationship with the Soviet Union and overall Cold War doctrine.

"Though it has been nearly 50 years since he stepped down as secretary of state, the Dulles Papers continue to be among the most heavily used here at the Mudd Manuscript Library," said Daniel J. Linke, University archivist and curator of public policy papers. "This reflects the importance of his tenure as well as the time during which he served. Scholars travel from around the country, as well as Japan and Europe, to study his letters, memoranda and speeches."
Notable exhibition items relate to his Princeton experience, diplomatic career, State Department service, and his short stint as a junior senator from New York. Materials from Dulles' student days at Princeton document his excellent scholastic record, his participation in the Second Hague Peace Conference during his junior year and his graduation. Memorabilia from his 50th class reunion in 1958 also is included.
"Winston Churchill reportedly said there were three kinds of U.S. secretaries of state: 'dull, duller and Dulles,'" said Project Archivist Adriane Hanson, who curated the exhibition with assistance from Mudd Library's summer intern, Pete Asch. "However, now that I have had the opportunity to explore Dulles' life, I cannot imagine how that could be true. He was deeply involved in major world events for over 50 years and approached every task with such zeal. I hope this exhibition reflects my — and his — enthusiasm."
The exhibition continues by recording Dulles' rise in the diplomatic service. He was assistant to the chairman of the War Trade Board and worked with President Wilson at the Versailles conference and the Reparations Commission, served as chairman of the Commission to Study the Bases of a Just and Durable Peace of the Federal Council of Churches of Christ in America, participated in the organizational meeting of the United Nations in 1945 and represented the United States at subsequent meetings of the United Nations General Assembly, and negotiated the 1951 Japanese Peace Treaty. The items include photographs of Dulles at meetings and receptions, his articles and journals, event memorabilia, and awards and honors he received for his work. Especially notable items include letters from Wilson, Truman and Shigero Yoshida, the prime minister of Japan.
The exhibition's comprehensive portrayal of Dulles' service as Eisenhower's secretary of state includes a number of noteworthy materials, including photos documenting Dulles' many travels around the globe and meetings with world leaders. The cases also feature artifacts from conferences he attended, including a card with the portraits and signatures of foreign ministers Anthony Eden, Georges Bidault and Vyacheslav Molotov of Britain, France and the Soviet Union, respectively. On the lighter side, visitors can also listen to a 1957 recording of Carol Burnett's "I Made a Fool of Myself Over John Foster Dulles."
"Dulles was the fifth Princetonian to serve as secretary of state, and the length of his tenure was second only to James Madison's," said Linke. "While historians may debate the merits of his tenure, none disagree that he served during a seminal time."
A small related exhibit in the lobby of the Mudd Manuscript Library documents Dulles' service as a junior senator from New York from July to November 1949, including campaign materials, photographs and his appointment document, signed by Gov. Thomas E. Dewey.
The majority of the exhibit is drawn from the John Foster Dulles Papers, 1860-1988, which document his entire public career and his influence on the formation of U.S. foreign policy, especially for the period when he was secretary of state, and include his correspondence files, as well as his writings, reports and memorabilia. The Mudd Manuscript Library holds several additional collections on Dulles, which are described in an online guide. Other papers housed at the Mudd Manuscript Library contain trace amounts of materials on him and can be located by searching the EAD finding aids page.
"John Foster Dulles: From Diploma to Diplomat" is open to the public without charge from 8:45 a.m. to 4:15 p.m. Monday through Friday. Starting in September, the library is open 9 a.m. to 5 p.m. Monday through Friday and, starting in mid-September, evening hours until 7:45 Wednesdays.