The list below includes information on items and collections accessioned in August and September 2008. There were no Public Policy Papers accessioned during this period. As always, anyone interested in additional information about the accessions listed below should contact the library through our general email account.
Princeton University Archives
Autograph Book of Valentine Hummel Berghaus, Class of 1864
AR.2008.109
This leather bound and gilt-embossed autograph book belonged to Valentine Hummel Berghaus, Class of 1864. Nearly each page in the book is filled with messages from Berghaus' classmates. Although the binding of the book is in poor condition, its individual pages are in excellent shape (see the images below). The book will be sent to the conservation lab for repairs and then it will be added to the Autograph Book Collection. Autograph books document student life at Princeton University in the 19th century.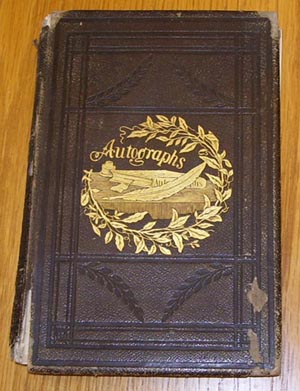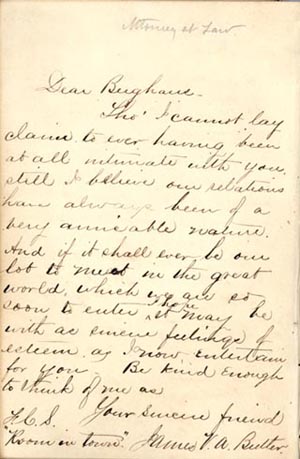 Additional materials accessioned in August and September 2008 include:
Princeton University Course Syllabi 1960s, and Memorabilia, 1920s
AR.2008.110
Historical Postcard Collection Accrual and Letter Written by Joseph Eckley, Class of 1772
AR.2008.111
Photographs of the Interior of the Charter Club, circa 1915
AR.2008.112
Papers of Former Woodrow Wilson School Faculty Member, Edward Tiryakian,
1961-1962
AR.2008.113
"Tolstoy, Dostoevsky, and the Tasks of the Russian Novel," Alumni Studies Lecture by Professor Caryl Emerson, Audio Cassette, 2001
AR.2008.114
Carl A. Fields Center for Equality and Cultural Understanding Records, 1970-2001
AR.2008.115
Butler College Student Academic Records, circa 2004-2008
AR.2008.116
Wilson College Student Academic Records, circa 2004-2008
AR.2008.117
Annual Reports to the President from Academic Departments, 2005-2007
AR.2008.118
Minutes of the Board of Trustees, 2007
AR.2008.119
Class of 1894 Records, 1890-1949
AR.2008.120
Richardson Auditorium Programs, 2007-2008
AR.2008.121
Alumni Council Records Accrual, 1970-1998
AR.2008.122
Library Records from Technical Services Department, 1915-2004
AR.2008.123
Faculty and Professional Staff Files, circa 1994-2003
AR.2008.124
Class of 1930 Memorabilia and Princeton Publications, 1926-1970
AR.2008.125
Office of Communications Photographs, 1983-2001
AR.2008.126
Class of 1953 50th Reunion Yearbook, 2003
AR.2008.127
Department of Architecture Senior Theses, 1995-2001
AR2008.128
Office of the President Records Accrual, 1957-1998
AR.2008.129