The list below includes information on items and collections accessioned in December 2008 and January 2009. There were 17 Princeton University Archives accessions added to our collections during this period. As always, anyone interested in additional information about the accessions listed below should contact the library through our general email account mudd@princeton.edu.
Princeton University Archives
Among the University Archives accessions for this period was an accrual for the Program in Latin American Studies Records, 1949-2008 [AR.2008.162]. The Program was founded in 1966 as an interdisciplinary course of study to supplement undergraduate and graduate curriculum. The Program in Latin American Studies Records documents the program from its beginnings to the present day.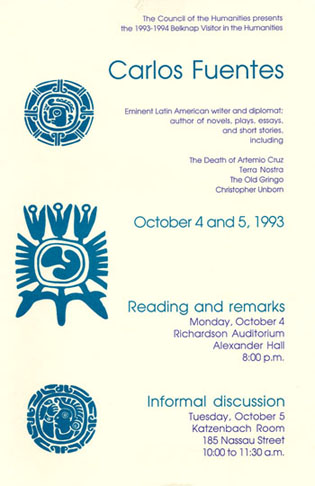 Additional Accessions Include:
Peter B. Lewis Library Bookmark, 2008
AR.2008.155
Correspondence of Harry Zebulon O'Brien, Class of 1899, Additions
AR.2008.156
James McCosh Letter, 1878
AR.2008.157
Three Score and Nine, Recollections and Reflections of Cornelius P. Trowbridge, 1898-1967
AR.2008.158
Arthur C. Eschenlauer Correspondence and Memorabilia, 1952-1956
AR.2008.159
Miscellaneous Princeton Publications, 1947-1999
AR.2008.160
Class of 1944 Alumni Indices, 1944-1961
AR.2008.161
Scrapbook of Gilbert N. McMillan, Class of 1890, and Photographs, 1888-1890, 1918
AR.2008.163
Photograph Album of William Alsop Bours, Class of 1904, 1900-1904
AR.2009.001
Scrapbook of Weld Merrick Stevens, Class of 1904, and Stevens Family Journal, 1898-1904
AR.2009.002
Thomas Meeker Papers on Admission to Princeton University, 1949-1956
AR.2009.003
Lewis Library Dedication Materials and Miscellaneous Library Brochures, 2008
AR.2009.004
Life Begins at Eighty, An Autobiography by Richard Esterbrook McConnell, Class of 1946, circa 2005
AR.2009.005
Library Handbooks, 1976-1983
AR.2009.006
Professor John Wheeler Memorial Reception DVD, 2008
AR.2009.007
Lectures on Criticism by John Witherspoon, 1794 (currently undergoing preservation treatment)
AR.2009.008