Question: How many buildings does Princeton University consist of?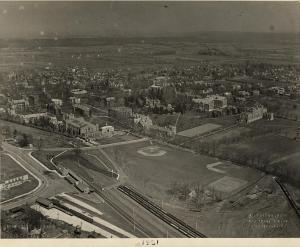 Answer:
This question comes up frequently. In this case, the context and research purpose are as important as the question. What does the patron consider a building? Buildings on the main campus, on the Forrestal Campus, or buildings that the University owns in general?
Because of these qualifiers, there is significant discrepancy among published numbers.
Mudd's own FAQ page gives 324 as of 2000; the Princeton Weekly Bulletin states 160 (on campus) and 220 (off campus) for 2004; and the Princeton Profile (http://www.princeton.edu/profile/) lists 180 as of 2009.
These discrepancies can be explained by two main factors: 1) change over time and 2) counting methods.
1. Change over time
The number of buildings owned by Princeton University on the main campus as well as worldwide is volatile due to rapid change. PU engages in a high volume of real estate activities. Acquisition, sale, demolition, construction, and redesign happen on a regular basis. As a result, the count is ever-changing.
2. Counting methods
In addition, different counting parameters are used by different agencies and for different purposes. For example, some buildings that appear to be one physical structure may be divided administratively and have more than one name or more than one mailing address (Fisher/Bendheim/Corwin, for example); certain types of facilities such as parking garages may or may not be included in any given count; certain structures such as residential colleges may be one line item by name/function or several line items by structural components.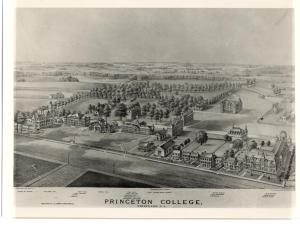 The Office of Communications "owns" the official–and short–answer to this question. Ushma Patel in Communications works with Mary Banfield in Facilities to compile a count of administrative, academic, residential, and athletic facilities. Since Communications acts as the "voice" of Princeton University, we may consider their count the authoritative answer. Their current count, published in Princeton Profile, is 180 (http://www.princeton.edu/profile/about/).
Here is a link to a listing of buildings that were included in this count.
The list is courtesy of Jon Hlafter, University Architect Emeritus, via Nancy Walters at the office of the VP for Facilities. (Note that here, Whitman and Butler are counted as one line item each.) This list also matches the official campus map, which is available at http://www.princeton.edu/~pumap/ . The map can be viewed by type of facility, and is a great resource for patrons who wish to learn more about Princeton's campus.
Yours sincerely,
Regine Heberlein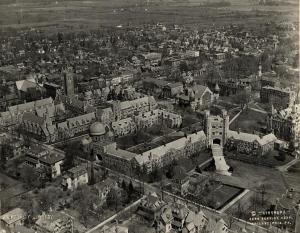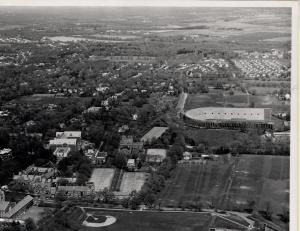 Image Information:
1) Historical Photograph Collection, Grounds and Buildings, Box MP9
1921 by Aero Service Corp, Aerial View of South Campus From the West
2)Historical Photograph Collection, Grounds and Buildings, Box MP8
Photograph of an 1875 drawing of an aerial rendering of campus.
3) Historical Photograph Collection, Grounds and Buildings, Box MP10
Birds Eye View from 1921, Airograph, from Aero Service Corp, Philadelphia, PA
West Campus
4) Historical Photograph Collection, Grounds and Buildings, Box MP10
Aerial Views of South Campus, cerca 1950s.