The following materials were accessioned in February and March this year. As always, anyone interested in additional information about the new materials should contact the library through our general email account mudd@princeton.edu
Among the new accessions to the University Archives is an issue of Old Nassau (pictured below), which was likely the personal copy of Jimmy Stewart '32 (accession number AR.2009016). Following his death in 1997, Stewart's estate donated a large number of the actor's books to the Friends of the Beverly Hills Library to be sold in their used book store. The wife of Kenneth Goldman '64, a volunteer at the book store, spotted the volume and purchased it for her husband.
Kenneth Goldman donated the book to the University Archives this spring. Published in 1905, the limited edition book tells the story of Princeton's anthem. It includes an autobiography of Karl Langlotz (composer of the music for Old Nassau); biographical information about Harlan Page Peck, Class of 1862 (author of the song's lyrics); various musical arrangements for the song; as well as information about Princeton in the years 1858 through 1862. The pages below show Peck's lyrics, which were first published in the Nassau Literary Magazine in 1859.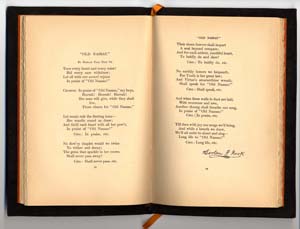 Additional information can be found on the finding aid for the Old Nassau Collection at the Mudd Manuscript Library http://arks.princeton.edu/ark:/88435/rb68xb85k; and on the Princetoniana Committee Web page "Old Nassau, History of the Song" http://tigernet.princeton.edu/~ptoniana/oldnassau2.asp.
A complete list of materials accessioned in February and March follows.

Public Policy Papers
Roland S. Morris Papers Accrual, 1918
ML.2009.004
Princeton University Archives
Class of 1939 Beer Can, Alumni Day Address, and CD with Digital Images of Beer Cans, 1926-2008
AR.2009.009
Animal Welfare and Emergency Response Manuals, 1990, 2003
AR.2009.010
Office of Development Communications, Lewis Library Dedication and Aspire Campaign Materials, 2007-2008
AR.2009.011
Office of Development Communications, DeNunzio Pool Dedication Photographs, 1990
AR.2009.012
Princeton Tiger, Jazz Ensemble and Triangle Club Materials, 1981-1985
AR.2009.013
Hobey Baker Newspaper Clippings and John D. Davies Photograph, 1934-1950s
AR.2009.014
Research Materials for Class of 1951 Princeton Alumni Weekly Memorials, 1950-2008
AR.2009.015
Jimmy Stewart's Copy of Old Nassau, 1905
AR.2009.016
Article on James Duncan, Class of 1775, 2008
AR.2009.017
Class of 1955 Directory, 2008
AR.2009.018
Discharge of Mortgage between Howard Russell Butler and Andrew Carnegie, 1903-1910 AR.2009.019
Wartime Recollections, 1941-1945, by A. Adgate Duer, Class of 1939, 2009
AR.2009.020
Track Medals of Eugene Charles Tittmann, Class of 1909, 1906-1907
AR.2009.021
Class Directories for the Classes of 1920 and 1921, 1956-1966
AR.2009.022
Plastic Reunion Cups, 2008
AR.2009.023
Commemorative Glass for the 25th Reunion of the Class of 1967 and Reunion Beer Cans, 1992
AR.2009.024
Beer Jacket Design Copies, 1929-1975
AR.2009.025
Department of Geology Faculty Meeting Minutes, 1905-1994
AR.2009.026
Office of the President Records, Harold Shapiro Subgroup, 1988-2003
AR.2009.027
Photographs of Harold Dodds and Senior Administrators; of the Board of Trustees in 1939; and of the Class of 1907 at Various Reunions, approximately 1910-1940
AR.2009.027