The Princeton University continued its 50th anniversary celebration by exhibiting the University's 1748 Charter during Reunions Weekend on May 29th and 30th. More than 128 alumni, staff, and family members came out to view Mudd's 2009 exhibition entitled The Best Old Place of All, featuring a variety of treasures from the archives on display. But undoubtedly the penultimate public display of the University Charter was the main draw. While always available online at the Princeton University Digital Library, the parchment original will only be showcased once more on Saturday, October 10, with no other public viewing planned before the University's 300th Anniversary celebration in 2046.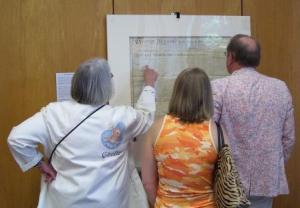 On Friday morning, University Archivist Daniel Linke delivered a talk to 19 fellow librarians regarding the items on display and the creation of the exhibit. During the rest of the weekend, alumni, faculty, and members of the public came out in force to see many of the Archives' one-of-a-kind attractions including the earliest diploma (from a member of the Class of 1749, the second class to graduate from Princeton), Adlai Stevenson's Reunion jacket, and F. Scott Fitzgerald's grade card.
The Best Old Place of All at the Seeley G. Mudd Manuscript Library will be on display until January 29, 2010. Summer hours are Monday through Friday from 8:45 A.M. until 4:15 P.M. Monday through Friday, with extended hours in June and July on Wednesdays until 7:15.
If you have questions about The Best Old Place of All, or would like to learn more about the exhibition, please view the exhibition announcement, e-mail us at mudd@princeton.edu, or leave a comment on this page.
Pictured: David Bonner '59, Patrick Miller '03, and Melanie Papasian '03.