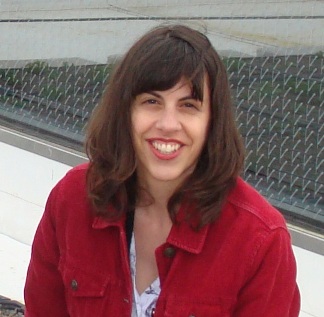 Name: Christie Lutz
Title/Duties: Assistant University Archivist for Public Services
I am responsible for overseeing and coordinating public services at Mudd Library. This includes managing our general reference account; handling a variety of in-depth remote and in-person reference inquiries, from researchers within the University community to those around the world; introducing Princeton undergraduate classes to and assisting them with the use of our materials; and scheduling and working with staff and student assistants in order to maintain day-to-day services. And of course,"other duties as assigned."
Recent projects: Helping curate our current exhibition celebrating the 50th anniversary of the University Archives.
Worked at Mudd since: 2005, but was a project archivist here also from 2000-2002, and was a graduate student intern in 1999. I was promoted to my current position in September 2008.
Why I like my job/archives: Each day is different, bringing new challenges, opportunities to engage in varied subject areas, and interaction with unique, interesting and surprising documents, photos, and objects. At Mudd I've had the opportunity to process material ranging from Adlai Stevenson campaign materials to Brooks Bowman's (composer of the standard "East of the Sun and West of the Moon") personal papers. As someone with an American Studies background, I find Mudd, and archives generally, a wonderful place to work. Also, at Mudd we're embarking on digital and other technological initiatives that are allowing researchers to access and use our holdings in new ways, and we're opening up new avenues for collaboration with users and colleagues on and off campus.
Favorite item/collection: I always have fun working with the Princeton University Archives Memorabilia Collection, especially when it comes to curating exhibitions. The experience of looking for appropriate objects for exhibits can be like sifting through a Princeton-themed (and curated) thrift shop.