Dear Dr. Mudd,
In reading a biography of Julia Child, I noticed her father attended Princeton. Can you tell me any more details?
With the release of Nora Ephron's new film, Julie and Julia, Julia Child, the doyenne of television cooking shows, is receiving a lot of buzz, and her life and legend have been discovered by a new generation of cooks. A search of our collections confirmed that her father, John McWilliams, Jr. Class of 1901, attended Princeton, and also revealed that three of her cousins, Charles "Mac" McWilliams '29, John P. McWilliams II '31, and J. Alexander McWilliams '35 attended as well.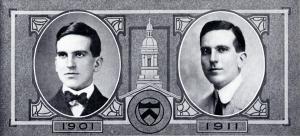 Julia Child's father John McWilliams '1901
As an undergraduate, John McWilliams, Jr., whom his daughter described as "tall – reserved – athletic," majored in history and politics and belonged to Colonial Club. McWilliams himself had a distinguished career in "finance, farming, and in civic and humanitarian enterprises," and he was said to display "rare qualities of leadership."
Indeed, after having worked his way up from assistant cashier in the Bank of Odell (Illinois) to its presidency, he moved to Pasadena, where he and his wife Carolyn had three children, Julia, John III, and Dorothy. On the West Coast, McWilliams continued as a banker and expanded his interests to include a conglomerate of Arkansas farms, became involved in real estate, and served as president of the Pasadena Chamber of Commerce. In addition he served as a director or trustee for numerous businesses and charitable organizations.
Admissions Application of John McWilliams '1901
McWilliams' devotion to Princeton was notable as well. His Princeton Alumni Weekly obituary (February 23, 1965) notes that he served as a regional trustee, an alumni association representative for Los Angeles, vice president of his class, member of the Class of 1901 Executive Committee, and former president and vice president of the Princeton Club of California. He also founded the John McWilliams Scholarship in memory of his father and donated carrels for Firestone Library.
At Princeton, Julia's cousins were active in campus life as well. John P. McWilliams won the Keene Fitzpatrick track medal. J. Alexander played multiple sports, breaking pole vault records, serving as track team captain, and ascending to what one obituary described as "one of the world's three best pole vaulters." John P. was a member of Charter Club, and J. Alexander was voted "third best all-around man" in his class. Charles, also known as "Charlie" or "Mac", was more active in his class after graduation, claiming membership in the University Club of Chicago.
Like Ms. Child's father, her cousins also became involved in agriculture and banking. After a false start in architecture, Charles developed the family's agricultural holdings to span more than 12,000 acres in Illinois. John P. and J. Alexander also helped manage these farms, and had roles in the family-owned Dwight Bank.
Whether or not Julia Child ever accompanied her father to a Princeton reunion is not known.
| | | |
| --- | --- | --- |
| | | |
| Charles a.k.a. "Charlie" or "Mac" McWilliams '1929 | John P. McWilliams, Jr. '1931 | J. Alexander McWilliams '1935 |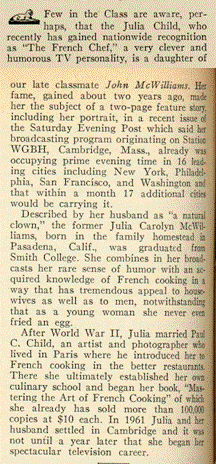 From the Princeton Alumni Weekly, 2/23/1965
-John DeLooper