The Princeton University Archives at the Seeley G. Mudd Manuscript Library will celebrate its 50th anniversary with an open house from 10 a.m. to 1 p.m. Saturday, Oct. 10.
The library will grant public access to its collections storage areas for archivist-led tours, offering visitors an extraordinary firsthand look at more than 250 years' worth of collected University history and lore. The rarely exhibited 1748 charter of the College of New Jersey also will be on display.
This piece of parchment, which is stamped with the royal seal of King George II, stands as the University's founding document and is a cornerstone of the archives' collections.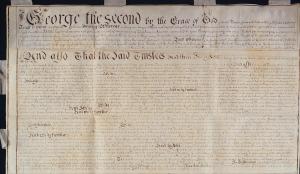 (Photo by Roel Muňoz.)
Also on display during the open house will be "'The Best Old Place of All': Treasures from the Princeton University Archives," a commemorative exhibition featuring some of the most historically significant documents and objects from the archives collections alongside seldom-seen treasures. Highlights include the earliest diploma (from a member of the Class of 1749, the second class to graduate from Princeton), a set of handwritten student lecture notes from the time of John Witherspoon, and F. Scott Fitzgerald's grade card.
The Princeton University Archives officially was established in October 1959 to collect records created by University faculty, staff and students. These records document University administration, the development of academic departments and programs, and student life. The University Archives consists of more than 15,000 linear feet of records. Since 1976 it has been housed in the Mudd Manuscript Library, where a sophisticated security system, environmental controls and a Halon fire suppression system ensure the protection and preservation of the library's holdings. The library serves more than 5,000 researchers each year and currently is in the midst of several processing initiatives aimed at increasing digital access to the collections for remote users around the world.
The Mudd Manuscript Library is located at 65 Olden St. Open house tours will begin at 10 a.m., 11 a.m. and noon. Additional information about the library, its programs and its holdings is available at http://www.princeton.edu/mudd.