The Mudd Manuscript Library received seven public policy accessions and 31 University Archives accessions between October and December 2009.
One of the highlights is an architectural rendering of Commencement Hall (now called Alexander Hall) that was published in American Architect and Building News on December 12, 1891. The rendering was created prior to the building's construction, which began in 1892, in accordance with architect William A. Potter's design.
First occupied in 1894, Alexander Hall was built to accommodate commencement exercises and other large gatherings. Today, the Romanesque-style structure is one of Princeton's most recognizable buildings and it is home to the Richardson Auditorium concert hall.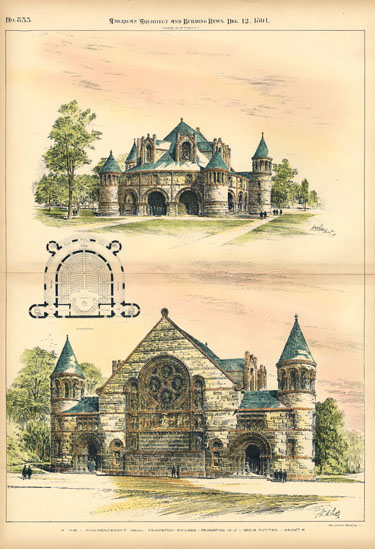 Commencement Hall, architectural rendering, 1891, AR.2009.111.
The following is a complete list of materials that were accessioned between October and December of 2009. As always, if you would like additional information about these materials, please contact us through our general email account mudd@princeton.edu.

Public Policy Papers
Albert O. Hirschman Papers Accrual, 1939-1969, ML.2009.020
Jeffrey E. Fuller Photographs, 1940-1978, ML.2009.021
Chester Brooks Kerr Papers, 1936-1948, ML.2009.022
Council on Books in Wartime Records Accrual, 1942-1945, ML.2009.023
German Unification: Expectations and Outcomes. Panel Discussion at the James A. Baker III Institute for Public Policy, October 30, 2009 , ML.2009.024
Julius E. Coles Papers, 2002-2009, ML.2009.025
Robert Ross Papers on Development and Investment in Latin America and Africa, 1956-2004, ML.2009.026
Princeton University Archives
Freshman Step Sing Song Books, 2007, 2009, AR.2009.106
Graduate Student Records, circa 2000-2009, AR.2009.107
Princeton Environmental Institute Publications, 1997-2007, AR.2009.108
Office of the Controller Records, 1995-2004, AR.2009.109
Student Papers, 1974-1989, AR.2009.110
Print of Commencement Hall, 1891, AR.2009.111
Reunion Pins, circa 1980-2000, AR.2009.112
Digital Photograph of President and Mrs. Goheen, 1970, AR.2009.113
Fabric Samples for Class Apparel, undated, AR.2009.114
Office of Risk Management, 1982-2009, AR.2009.115
Dean of the Faculty Meeting Materials and Minutes, 2009, AR.2009.116
Student Publications, Admissions Office Publications and African American Studies Program Document, 1974-1977, AR.2009.117
Lecture Notebook for Class on Natural Philosophy Taught by Professor Joseph Henry, 1841, AR.2009.118
Tiger Family Hockey Newsletters for 2009-2010 Season, AR.2009.119
Administrative Guide, Princeton University, 1972 September, AR.2009.120
Recovered Biology Department Senior Theses, 1974, 1976, AR.2009.121
PAW Photographs Collection Accrual, Alumni Photographs in Japan, 1946, AR.2009.122
Princeton University Register, 2009-2010, AR.2009.123
Office of the Registrar Scholastic Cards, 1973-1985, AR.2009.124
Office of the President Records, 1952-1999, AR.2009.125
Triangle Club, Theatre Intime and Miscellaneous Materials, 1958-2008, AR.2009.126
Princeton Football Silk Scarf and Issues of The College Courant, 1871, undated, AR.2009.127
Building Dedication Materials for Butler College, the Keller Center, Sherrerd Hall and the Carl A. Fields Center/Community House (58 Prospect), 2009, AR.2009.128
Woodrow Wilson School 75th Anniversary and Conference Videos, 2004-2005, AR.2009.129
Office of Information Technology Broadcast Center Recordings, undated, AR.2009.130
The Tiger's Family Album and Yale Baseball Game Score Card, 1931-1946, AR.2009.131
Digital Photographs of RBSC and Friends of the Library Events, 2007-2009, AR.2009.132
The Princeton Cannon Song-March Sheet Music Booklet, 1906, AR.2009.133
Photographic Negatives of Princeton, 1927-1931, AR.2009.134
Daily Princetonian Bound Volumes, 1974-1977, AR.2009.135
Lecture Notes and Tiger Magazines, 1926-1928, AR.2009.136
Princeton Related Books and Publications and Class of 1926 Materials, 1926-1970, AR.2009.137