Dear Mr. Mudd,
What is the history of Princeton's Opening Exercises, and how long have they been held at the Chapel?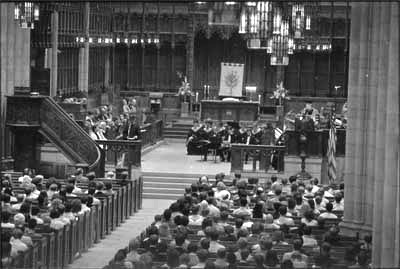 1986 Opening Exercises, Office of Communications Records, Box 172
Pursuant to your question on when Opening Exercises began and how long the ceremony has been held in the Chapel, the earliest documented "opening exercise" I could find was in 1802, held in Nassau Hall. There is a newspaper clipping to that effect in Historical Subject Files, Box 312. I also checked the index to Trustees Minutes but did not see anything there.
The first time the gathering is referred to as "opening exercises" is in 1904. It was previously referred to in the General Catalogue as an assembly.
Opening Exercises have been held in the University Chapel since 1929. After Nassau Hall, they were held in Marquand Chapel. After Marquand burned, they were held in Alexander Hall until the completion of the University Chapel.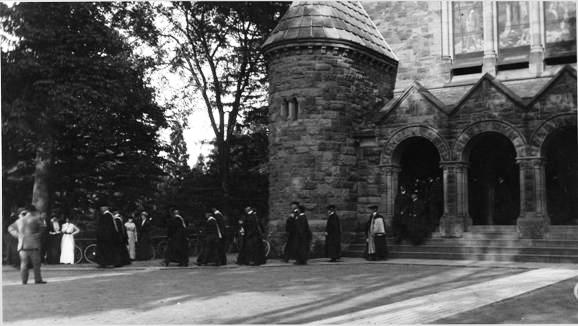 Opening Exercises Procession at Marquand Chapel,
Historical Photograph Collection: Grounds & Buildings, Box MP29
Best,
Christie Lutz