The Mudd Manuscript Library received 8 public policy accessions and 31 University Archives accessions between January and March 2010.
In January, the Library purchased a rare pamphlet written in Yiddish supporting Woodrow Wilson's bid for reelection 1917. The pamphlet is one of only a handful of Yiddish-language Wilsoniana known to exist (accession number ML.2010.003).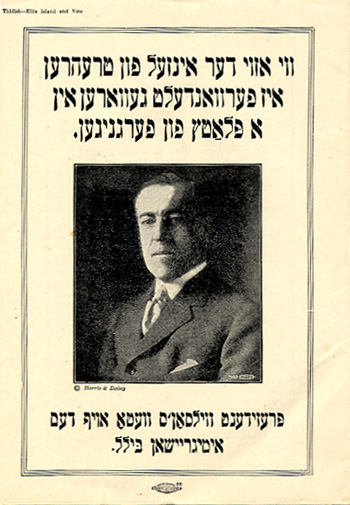 In addition, in March the Library purchased a personal notebook by James Forrestal containing records of meetings and conversations as well as Forrestal's thoughts on current events for the year 1949. The notebook, which is typed but contains a number of handwritten items, seamlessly complements Mudd's prior holdings of Forrestal's diaries. It is especially noteworthy because Forrestal was in the habit of typing even his personal notes, making this one of the scarce examples of Forrestal's handwriting (accession number ML.2010.008).

Coming soon in New Accessions, Part II will be an accessions highlight from the University Archives– the Elijah Rosengrant Lecture Notebook, 1791.
The following is a complete list of materials that were accessioned between January through March 2010. As always, if you would like additional information about these materials, please contact us through our general email account mudd@princeton.edu.

Public Policy Papers
Charles Yost Accrual, 1929-2009, ML.2010.001
Woodrow Wilson Accrual, Elliott Family Scrapbook, 1910-1911, ML.2010.002
Woodrow Wilson Additional Papers Accrual, 1917, ML.2010.003
Woodrow Wilson Additional Papers Accrual, 1917-1969, ML.2010.004
John Foster Dulles Accrual, 1932-1934, ML.2010.005
William O. Baker accrual, 1958-1910, ML.2010.006
General Manuscripts Collection Accrual (John Biggs, Jr.), 1965-1967, ML.2010.007
James V. Forrestal Accrual, 1944-1949, ML.2010.008
Princeton University Archives
Issues of the Daily Princetonian, 2004 February-2009 May, AR.2010.001
Elijah Rosengrant Lecture Notebook, 1791, AR.2010.002
Architectural Presentation Boards, 200-2002, undated, AR.2010.003
Anthony Grafton Lecture on the Princeton Preceptorial System, circa 2006, AR.2010.004
Class of 1908 Reunion Photographs, 1913-1963, AR.2010.005
Office of Development Communications Anniversary Campaign Materials, 1996-2000, AR.2010.006
Annual Reports to the President, 2007-2008, AR.2010.007
Fund for Reunion E-Newsletter, 2009, AR.2010.008
Department of Hellenic Studies Records, 1986-2007, AR.2010.009
Office of the President Records, 1969-2001, AR.2010.010
Board of Trustee Minutes, 2007-2008, AR.2010.011
Photographs of Princeton Buildings, 1903-1946, AR.2010.012
"Nassau Hallmark" Pen and Ink Drawing, circa 2009, AR.2010.013
Nassau Hall Print by Dudley Morris, circa 1940-1958, AR.2010.014
Office of the Registrar Grade Cards, 1940-1960, AR.2010.015
Positive Profiles, by John Chapman Chester Sr. '1952, 2009, AR.2010.016
Committee on the Structure of the University Minutes, 1968-1969, AR.2010.017
Class of 1895 Reunion Umbrella, circa 1900, AR.2010.018
The Emerys at War, circa 2009, AR.2010.019
Princeton Tiger and Theatre Intime Materials, 1944-1984, AR.2010.020
Town Topics Newspapers, 2005 January-2010 February, AR.2010.021
Princeton Bulletin, 2007 September – 2010 February, AR.2010.022
The Adventurous Life of Randolph Jenks, 2009, AR.2010.023
Class of 1951 Obituary Research and Bogle's Common Sense on Mutual Funds Fully Updated 10th Anniversary Edition, 2008-2010, AR.2010.024
Dean of the Faculty Records, Faculty and Professional Staff Files, circa 1990-2004, AR.2010.025
Office of Research and Project Administration Records, 2008-2010, AR.2010.026
Office of Information Technology Records, circa 1970-2000, AR.2010.027
Sheet Music and Lyrics for Princeton Songs, 1906-1914, AR.2010.028
Reunion Magnet, 2010, AR.2010.029
Article on Arnold Guyot, 2009, AR.2010.030
Photographs of the 1971 Addition to Firestone Library, 1971, AR.2010.031