Readers of this blog are used to reading timely, informative, and entertaining news about the collections, staff, and events at the Seeley G. Mudd Manuscript Library.
But, as of today, this blog will change. Don't worry — we will still bring you the latest news coupled with tidbits regarding Princeton University history, but as you can already tell, the look and feel is different.
Thanks to a new version of Movable Type, the blogging software that Princeton's Office of Information Technology supports, you can see our redesigned banner, a search box, and a listing of the most recent comments across all of our postings.
We're excited about the changes because the new software allows us to create reader polls and gather more statistics about which entries are read, data we can use to tailor our content to better serve you, our readers. On our end, formatting has also been made easier, so we hope our entries will appear sharper to the eye.
Please send us your comments about the blog through the comment link below or feel free to contact us at mudd@princeton.edu.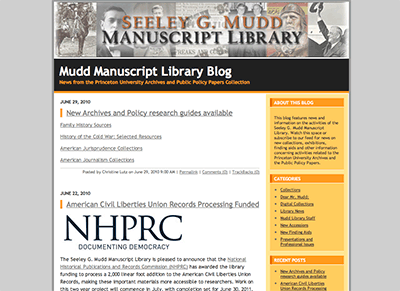 Mudd's Old Blog Design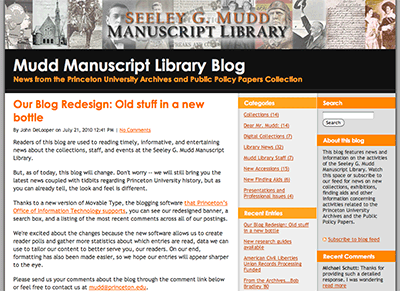 Mudd's New Blog Design