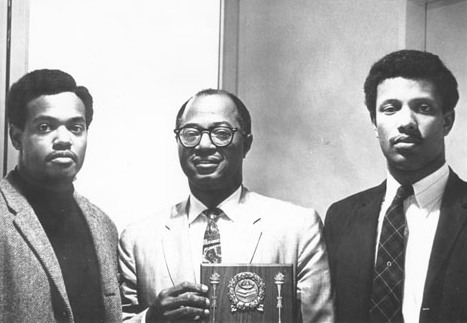 Paul C. Williams, Dr. Carl A. Fields, and A. Deane Buchanan at the first dinner banquet of Princeton's Association of Black Collegians (May 22, 1968)
The papers of educator and advocate of minority education Dr. Carl A. Fields are now available for research at Princeton University's Seeley G. Mudd Manuscript Library. Carl Fields became the first African American to hold a high-ranking position at an Ivy League school when he was appointed the Assistant Director of Student Aid and then later the Assistant Dean of the College at Princeton University. Throughout his tenure Fields began and directed several innovative programs aimed at the retention of African American and other students of color, including the Family Sponsors program that introduced students to an African American family within the Princeton community. In 1967 Fields helped coordinate the first Negro Undergraduate Conference with the new Association of Black Collegians organization on campus, which brought together black students from forty-one predominately-white universities. Fields also established the Frederick Douglass Award after attending the 1968 Princeton commencement exercises, which had the largest number of black students receiving a diploma in the history of the University.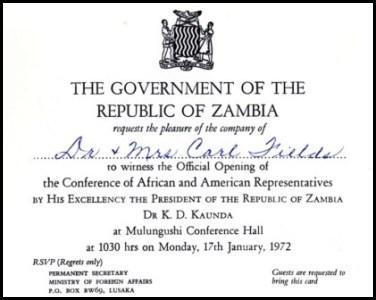 Invitation to the opening of the Conference of African and American
Representatives in Zambia (January 1972)
Fields left Princeton for a three-year Ford Foundation Fellowship, during which he served as the Planning Officer at the University of Zambia. From 1974-1984 he became the principal partner and founder of the African Technical Educational Consultant Service, where he served as a consultant for numerous organizations, including the United Methodist Church. From 1984-1987 Fields became the administrative officer of Riverside Church in New York City and from 1988-1989 was the associate director of the Bishop Tutu Southern African Refugee Scholarship Fund. Fields was an active member and officer of many other organizations throughout his lifetime, including the College Entrance Examination Board and the Association of Black Princeton Alumni.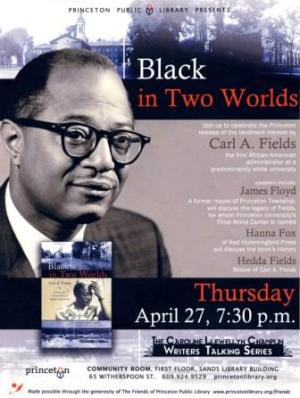 Promotional flyer for Fields's posthumously-published book, Black in Two Worlds: A Personal Perspective on Higher Education (ca. 2006)
His papers document his life and active career, and include a large amount of material generated from the three years spent as the Planning Officer at the University of Zambia, as well as his services as consultant and founder of the African Technical Educational Consultant Service. For more information, consult the full finding aid for the Carl A. Fields papers. Click here for more information about the Carl A. Fields Center for Equality and Cultural Understanding at Princeton University, named in his honor in 2002. The processing of the Carl A. Fields papers was completed in July by Nicole Milano, the 2010 John Foster and Janet Avery Dulles Archival Intern.

–Nicole J. Milano