The Mudd Manuscript Library received 12 public policy accessions and 30 University Archives accessions between April and June 2010.
The public policy collections received significant additions to the American Civil Liberties Union Records and the Council on Foreign Relations Records. In addition, a wonderful surprise was the receipt of Woodrow Wilson's and Edith Bolling Galt's marriage license, 1915. The item was donated by Mr. Barry C. Keenan of Granville, OH, who also confessed to having caused the green ink stain on the document as a ten-year-old.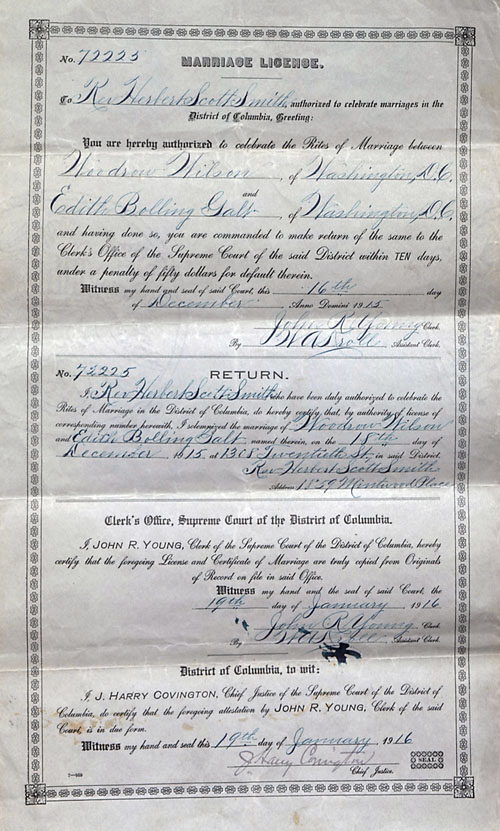 On the University Archives side, the Library received the papers of two important Princeton figures– Dr. Carl. A. Fields and Dean Mathey.
Educator and advocate of minority education, Dr. Carl A. Fields was assistant dean of student aid at Princeton University and later served in various other leadership positions outside the University. The Carl A. Fields Papers consist of correspondence, reports, research material on race relations and minority education, handwritten notes, project proposals, and other papers that document his life and active career. An online finding aid for this collection is available at:
http://arks.princeton.edu/ark:/88435/5138jd936
.
Dean Mathey, Class of 1912, was a member of the Board of Trustees and an ardent supporter of the University. The collection documents Mathey's familial relationships, his service to Princeton, his tennis career and other activities from his undergraduate days to the end of his life. A finding aid is for this collection is in process.
The following is a complete list of materials that were accessioned between April and June of 2010. As always, if you would like additional information about these materials, please contact us through our general email account at
mudd@princeton.edu
.
Public Policy Papers
John Van Antwerp MacMurray Films, 1928-1942, ML.2010.009
H. Freeman Matthews Papers, 1924-1970, ML.2010.010
James Douglas Brown Accrual, 1917-1919, ML.2010.011
James A. Baker III Oral History Recordings Accrual, 1994, ML.2010.012
James A. Baker III Oral History Accrual, 2010 April 30, ML.2010.013
James A. Baker III Papers Accrual, 2010, ML.2010.014
James A. Baker, III Papers Accrual, 2010, ML.2010.015
William Hard Papers Accrual, 1931, ML.2010.016
General Manuscripts Accrual, 2010, ML.2010.017
American Civil Liberties Union Accrual, 1900-1995, ML.2010.018
Council on Foreign Relations Accrual, 1997-2000, ML.2010.019
Project on Ethnic Relations Records, 1990-2008, ML.2010.020
Princeton University Archives
Scrapbook of John E. Packard Jr. '1928, 1925-1928, AR.2010.032
Office of the Provost Records, Jeremiah Ostriker Journals, 1995-2001, AR.2010.033
Bogle Hall Dedication Materials, 2010, AR.2010.034
Old Nassau Book and Music and Triangle Club Programs, 1905-1919, AR.2010.035
Carl A. Fields Papers, circa 1959-1992, AR.2010.036
Theatre Intime, Triangle Club and Miscellaneous Materials, 1864-1919, AR.2010.037
Tom Reed Artwork for APGA Reunions, 2010, AR.2010.038
Articles on Mason Lowance, Jr. '60 and Lecture Notes, 1966-2006, AR.2010.039
Class of 1985 25th Reunion Book, 2010, AR.2010.040
Dissertations by Conyers Herring *1937 and Gilbert Plass *1947, AR.2010.041
Photograph Album of William Miller, Jr. '1880, circa 1876-1880, AR.2010.042
ReCAP Planning Documents, circa 2000, AR.2010.043
Princeton Club of Northern California Historical Research, 2010, AR.2010.044
Reports of the University Expeditions to Patagonia 1896-1899, 1901-1906, AR.2010.045
Princeton-Related Books, 1905-1995, AR.2010.046
Class of 1974 Poem, 1974, AR.2010.047
Certificate of Appreciation to the Bureau of Alumni Records from President Dodds, 1956, AR.2010.048
25 Years On, the Class of 1944 and Class of 1955 Directory, 1969-2010, AR.2010.049
School of Architecture Senior Theses, 2004-2006, AR.2010.050
Princeton Class of 1960 50th Reunion Yearbook, 2010, AR.2010.051
Drawing of Firestone Library Weathervane, circa 1940, AR.2010.052
Print of Morven by Dudley Morris, circa 1959, AR.2010.053
Early Memoirs of a Country Gentleman: Tharratt Gilbert Best 1892-1969, 1976, AR.2010.054
Directories for Class of 1950 and 1952, 2010, AR.2010.055
Princeton Athletic News Issues, 1973-1976, AR.2010.056
Princeton Campus Plan, 2008, AR.2010.057
Woodrow Wilson School Junior Papers (Policy Task Force/Conference Papers), 2010, AR.2010.058
Baccalaureate Program, 2010, AR.2010.059
Theatre Intime Posters, Programs and DVDs, 2009-2010, AR.2010.060
Dean Mathey Papers, circa 1900-1960, AR.2010.061