Behind the scenes tours of Mudd Manuscript Library offered
On Saturday, October 23, Princeton University's Seeley G. Mudd Manuscript Library will host a special Open House from 9 a.m. until noon. This event will feature the library's current exhibit, John F. Kennedy: From Old Nassau to the New Frontier, which highlights objects, photographs, and documents created during Kennedy's time as a Princeton student and throughout his political career.
John F. Kennedy: From Old Nassau to the New Frontier is the first exhibit to feature objects from both major collections of the Mudd Library, the Princeton University Archives and the 20th century Public Policy Papers. Highlights include his handwritten application to Princeton, a Jackie Onassis letter to Adlai Stevenson, and documents from the Warren Commission.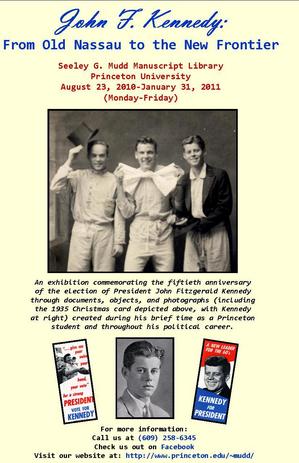 "While Kennedy's time at Princeton was abbreviated, he himself noted that he would always have a 'very tender spot in his heart for Old Nassau.' With this exhibition, all can see that Princeton was endeared by his presence," said University Archivist and Curator of Public Policy Papers Dan Linke. "In addition, we also highlight that during his presidency, he was served by many notable Princetonians."
Library visitors will be able to take a behind the scenes tour of the Library to learn how Mudd helps preserve Princeton University's past and 20th century political and social history. Tours will begin at 9:30 a.m. and 10:30 a.m.
"This open house represents an opportunity for visitors to get a behind the scenes look at the tremendous resources of Mudd's Princeton University Archives and the Public Policy Papers collections." Linke said. Admission is free.
For questions about the exhibition or the Seeley G. Mudd Manuscript Library, please call us at (609) 258-6345, e-mail us at
mudd@princeton.edu
, check us out on
Facebook
or
Twitter
, or leave a comment on this page.
-John DeLooper