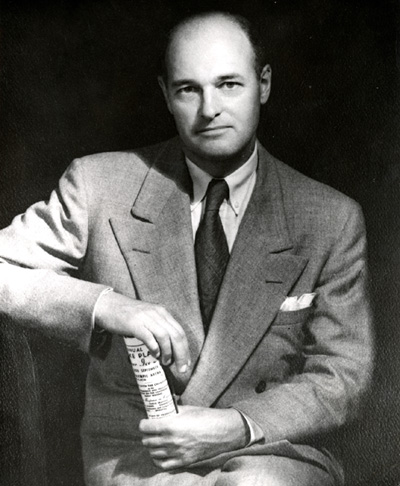 The Mudd Manuscript Library at Princeton University holds the papers of renowned diplomat George F. Kennan (1904-2005); upon the passing of Kennan and his wife, copyright in the unpublished materials in those papers passed to Princeton. Within the more than 300 boxes that make up the collection, twelve boxes contain the diaries that Kennan kept nearly continuously throughout his adult life (they date from 1924-2004).
As Kennan remains prominent in scholarly discourse, there is great interest in these diaries. Several individuals have expressed an interest in publishing them in some form. In order to ensure that they receive the benefit of the best possible treatment, the University is soliciting proposals from all interested scholars and will award one the right of first publication.
The Kennan Papers and Diaries
Kennan kept the diaries throughout much of his adult life and they detail his private thoughts on the issues facing him both professionally and personally. Kennan's authorized biographer, John Lewis Gaddis, has read them all and described their self-critical character as resembling those of Henry Adams. In the diaries, Kennan recorded with whom he was meeting, including brief descriptions of the subject of the conversations, and his professional and personal appointments. The earlier diaries, from the period when he was in the diplomatic service, contain his impressions of the countries and the issues they faced. The diaries from his scholarly career include discussions of his research projects and publications, his travels and speaking engagements, and his opinions on public policy matters. Personal details are also found throughout each volume, with a separate "dream journal" covering the period from 1964 to 1977.
The Library seeks proposals for the publication of the Kennan diaries that answers the following questions:
How will your proposed publication be formatted? (number of volumes, amount of annotation, level of indexing, etc.)
What qualifications do you bring to this project?
What is your plan of work, including a timetable and strategy?
What publishers might you work with? Have you worked with them in the past or have they evinced an interest in working with this project?
Why do you want to undertake this project?
If you plan to seek outside support, what experience do you have with fundraising?
Please include a c.v. for all project participants.
Proposals should include contact information for possible follow-up questions. Word or PDF documents sent as email attachments can be mailed to
dlinke@princeton.edu
. Any supplementary materials that need to be sent via USPS can be mailed to:
Dan Linke
Mudd Manuscript Library
Princeton University
65 Olden Street
Princeton, NJ 08540
All proposals will be confidentially evaluated by a panel of scholars with an understanding of Kennan's role in 20th century diplomatic history.
Kennan Diaries Project Advisory Committee
John Lewis Gaddis, Yale University, Robert A. Lovett Professor of History and Kennan's authorized biographer.
Richard Immerman, Temple University. Edward J. Buthusiem Family Distinguished Faculty Fellow and Department Chair; Director of the Center for the Study of Force and Diplomacy.
Daniel J. Linke, Princeton University Archivist and Curator of Public Policy Papers.
Paul Miles *99, Princeton University, Lecturer in History.
Bradley Simpson, Princeton University, Assistant Professor of History and International Affairs.
Deadline for submission is: May 2, 2011 with an anticipated announcement by August 1, 2011.