Dear Mr. Mudd,
What types of materials do you have concerning Dr. Martin Luther King Jr.?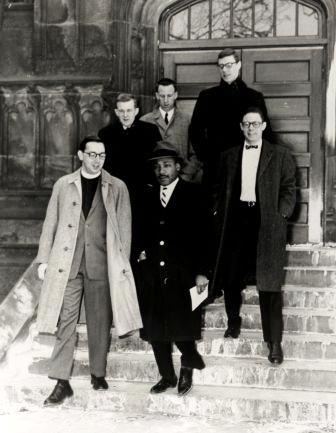 King with Assistant Dean of the Chapel Reimers on the steps of Chancellor Green, March 1960. Also pictured: top right: Tom Garrett '61, top middle: Jerry H. Shattuck '61, top left: Daniel H. Jackson '1961, bottom right: John N. McConnel Jr. '61. Historical Photograph Collection, Individuals Series, box MP4
First, the Public Policy Papers contain information concerning King's civil rights and organizing activities in the David Lawrence Papers, John Marshall Harlan Papers, Robert K. Massie Papers, George McGovern Papers, David E. Lilienthal Papers, Law Students Civil Rights Research Council Records, and in the Subject Files, Project Files, and Audiovisual materials series of the American Civil Liberties Union Records.
Secondly, the University Archives have substantial information concerning King's 1960 and 1962 visits as part of the Student Christian Association's Biennial Religious Conference, as well as a cancelled 1958 sermon. The University Archives collections also contain materials that document the University's annual observations of the civil rights leader's legacy. In addition, Dr. King's widow, Coretta Scott King received an honorary degree in 1970, information about which can also be found at Mudd.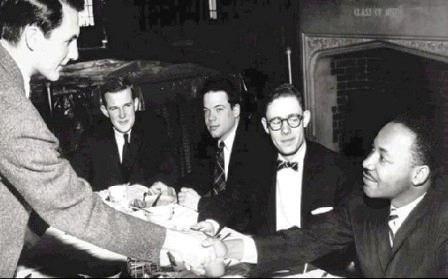 Information about Rev. King's legacy on campus and the Princeton University community's observance of it can be found in the following collections: