You never know what you are going to find in an archival collection. Pictured here is the bottle used to christen the U.S.S. Vulcan, a Navy repair ship, at its launch on December 14, 1940.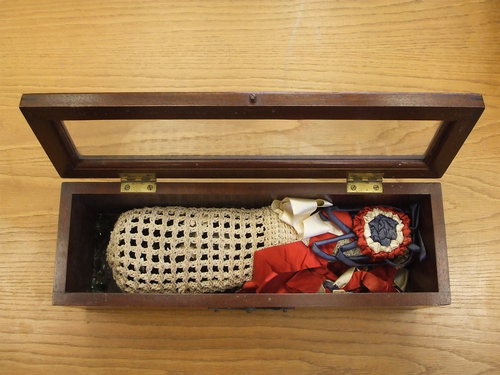 The netting held the pieces of the bottle together when it was smashed during the ceremony. The ship was sponsored by Josephine (Ogden) Forrestal, the wife of then Undersecretary of the Navy James Forrestal. James Forrestal went on to become the Secretary of the Navy in 1944 and the first Secretary of Defense in 1947, charged with unifying the military departments of the United States for the first time. The bottle is from the James V. Forrestal Papers.
During World War II, the U.S.S. Vulcan served in Iceland (1941-1943), North Africa (1943-1944), and throughout the Pacific (1945-1946), making emergency repairs to ships and also providing a sick bay for wounded sailors. After the war, the ship was stationed first in Newport, Rhode Island and then moved to Norfolk, Virginia in 1954, its home port for the duration of its service. The U.S.S. Vulcan conducted repair, training, and occasional rescue missions along the entire Atlantic Coast, as well as assisting during the Cuban Missile Crisis in 1962 and participating in NATO exercises in the Northern Atlantic in 1964. On November 1, 1978, the U.S.S. Vulcan was the first non-hospital ship in the Navy to receive female officers. When the ship was decommissioned in 1991, it was the oldest ship in the Atlantic fleet.
To learn more about the USS Vulcan: