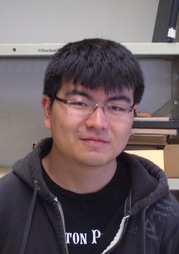 Name: Jimmy Lu '13
Major: Mechanical and Aerospace Engineering
Title/Duties: Special Collections Student Assistant. I copy and scan documents to fulfill patron orders. I deliver files to offices that are too valuable to be sent via campus mail. On occasion, I also watch over the library's reading room, lest patrons misbehave.
Recent projects: Digitization of Trustees Minutes. From the old volumes of early 1900s to the confidential records of the recent years, I contribute to humanity's transition from our reliance on paper to a bondage to electronics.
Worked at Mudd since: Summer 2010
Why I like my job/archives: It's a nice change of pace from my coursework. I can perform my duties while letting my mind drift and wander. The immersion in the history of Princeton is also very enjoyable. Seeing the old documents that have survived from Princeton's baby years strengthens my connection to the prestigious institution. Additionally, the short distance between the archives and most of my classes suits my lazy self very well.
Favorite item/collection: The Daily Princetonian Records. Nothing covers the many aspects of Princeton and the happenings inside the Orange Bubble as completely as the student newspaper. It's interesting to see the changes in the writing quality, the focus of the articles, and the temperaments of the student body through the many decades.