The Seeley G. Mudd Manuscript Library at Princeton University invites visitors to view the new exhibit, "She Flourishes: Chapters in the History of Princeton Women," which documents the struggles and accomplishments of women scholars, students, staff and other women associated with the institution. The exhibit is open now through the end of August, 2012.
The exhibit title is derived from the University's official motto, Dei Sub Numine Viget, which translates to "Under God's Power, She Flourishes." Drawing from the library's rich holdings, the exhibit showcases various accounts of women throughout Princeton's history and explores the ways in which these women have redefined what was once considered an "old-boys' school."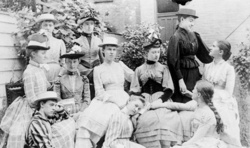 From the "dangerous experiment" of Evelyn College (Princeton's local all-women's college, 1887-97), to the implementation of undergraduate coeducation (1969), and the inauguration of President Shirley M. Tilghman (2001), women have historically contributed significantly to the function and educational mission of Princeton University, though not always without opposition. Exhibition items from the University Archives at the Mudd Manuscript Library spotlight chapters in the lives of a handful of particularly notable Princeton women, while demonstrating their changing roles and their ability to influence their environment.
Women highlighted in the exhibit include: Beatrix Farrand, who was responsible for crafting Princeton's highly regarded landscape environment; Katharine Fullerton Gerould, a noted scholar and faculty wife barred from intellectual pursuits, skewered the parochial, hyper-masculine environment at Princeton in 1924; Josephine Thomson Swann who was integral in the founding of the Ivy Club in 1887; and Sally Frank, who more than one hundred years later, challenged male-oriented cultural traditions, resulting in the full integration of women into the eating clubs.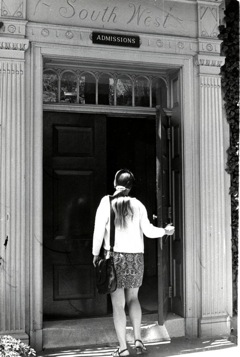 This exhibit does not and cannot tell the whole story of women at Princeton. It does, however, provide a glimpse into the materials generations of Princeton women left behind including letters, memoranda, photographs, publications and other records of scholarship and campus work. The exhibit also includes a
video compilation of archival footage relating to women at Princeton
, available online through the
Reel Mudd Blog
. For more information related to the history of women at Princeton, see the Mudd Library's
page devoted to this topic
.
"She Flourishes" is open to the public free of charge from 9 a.m. to 4:45 p.m. Monday through Friday until August 31, 2012. The Mudd Library will also be open Saturday morning, June 2, 2012, for Reunions. Beginning in June, exhibit hours will be 8:45 a.m. to 4:15 p.m. Monday through Friday.