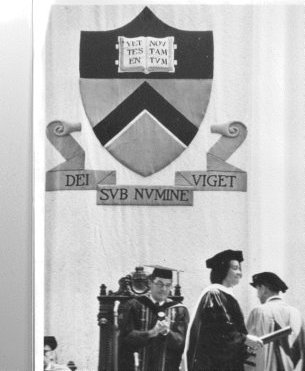 Eight years after King's last visit, his widow, Coretta Scott King, an activist in her own right, was conferred the Doctor of Humanities, honoris causa (honorary degree) at Princeton's 1970 commencement exercises. During this occasion she was joined by an august group of honorees, including musician
Bob Dylan
. In a letter of gratitude to
Princeton's President Robert F. Goheen
, Scott King's altruism, conscientious tenor, and unwavering commitment to racial and gender equality were evinced when she wrote:
"I consider it a distinct honor to be an alumna of Princeton, especially since I received my degree at the time that you graduated your first woman student. I am further honored to be associated with a progressive institution which is steeped in tradition, but is keenly sensitive to the temper of the times and can therefore merge the best of the old with the best of the new."
In yet another testament to her unshakable activism, Scott King returned to Princeton in November 1982 to partake in Black Solidarity Day, a rally sponsored by the Organization of Black Unity, among other student organizations and academic departments. According to the November 2, 1982
Daily Princetonian
article, when she climbed upon the rostrum, as if to channel her late husband's philosophy and disposition, she echoed the organizing principles of non-violent social change, for which she added: "[non-violent action] awakens a sense of moral shame in one's opponent."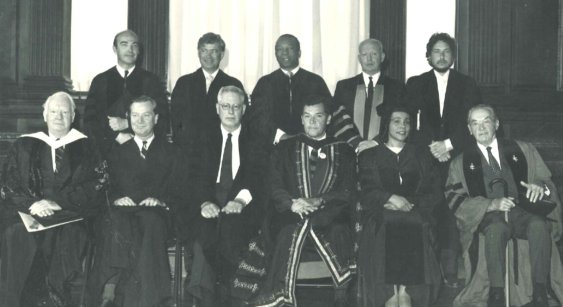 In both her 1970 and 1982 visits, Scott King demonstrated to Princetonians that she had not retreated to widowhood after King's untimely assassination in 1968. Rather, she continued in his stead, delivering the gospel of non-violence, while also preserving the rich legacy that Dr. King left in his wake. In short, Scott King cemented her place in Princeton's Valhalla of distinguished alumnae and visitors, right alongside her husband.
Interestingly, on November 1, 1983, precisely a year after her powerful speech at Black Solidarity Day, and after years of lobbying, Scott King stood next to
President Ronald Reagan
as he signed the bill establishing Dr. King's birthday as a federal holiday. As the Princeton community joins the nation in commemorating King, we must also remember Coretta Scott King, her time at Princeton, and most importantly, the indelible mark she has left on the world. On this day, we salute, Dr. Martin Luther King, Jr.
and
Coretta Scott King.
To learn more about any of these resources, please feel free to
contact
or
visit
the Mudd Manuscript Library.
–Brenda Tindal