The earliest document held by the Princeton University Archives, the 1748 Charter of the College of New Jersey, along with the first two volumes of the University's Board of Trustees Minutes, have been digitized and are now available online through the Princeton University Library's Digital Collections website: http://arks.princeton.edu/ark:/88435/7w62f826z
Images of the documents are also linked from the online finding aid for the Board of Trustees Records: http://arks.princeton.edu/ark:/88435/w66343618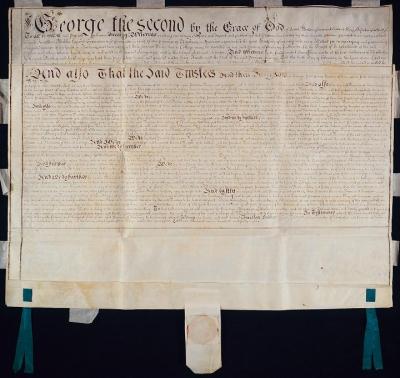 The original charter, which has been lost, was issued in 1746 by John Hamilton, president of the Council of the Province of New Jersey, who was acting as governor at the time. Because Hamilton's authority was questioned, the legal status of the College came under attack, and a second charter was therefore issued in 1748 by Jonathan Belcher, newly appointed governor of the province. It corresponded, for the most part, to the charter of 1746, but it increased the maximum number of trustees from twelve to twenty-three, made the governor of New Jersey a trustee ex-officio, and stipulated that twelve trustees were to be inhabitants of the State of New Jersey. The charter granted the trustees and their successors full power and authority to acquire real and personal property, to erect buildings, to elect a president, tutors, professors, and other officers, to grant degrees, and to establish ordinances and laws.
Volumes 1 and 2 of the Trustees minutes, which date from 1746 to 1823, contain a wealth of information about the personalities and activities of the young College of New Jersey. As these minutes date from the very beginning of the College, they address the multitude of issues and problems the trustees initially addressed.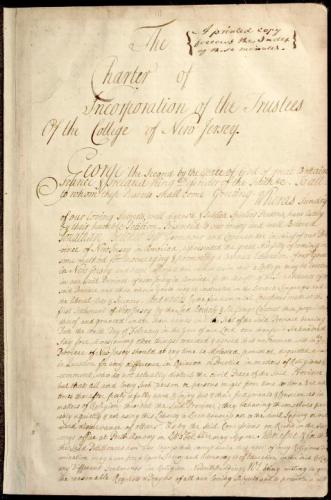 The minutes contain the names of officials, trustees, teachers, and students. They also provide a record of the major decisions of the College (such as the election of new presidents) as well as smaller ones (such as which foods the steward could sell to students and where the account books would be kept). Researchers will find information related to the standards for admission and graduation; legacies received; names of members of the graduating classes; names of recipients of honorary degrees; the list of books donated by Governor Jonathan Belcher; the hiring and firing of tutors; the selection and election of presidents; the purchase and sale of land; the establishment of accounting methods; the maintenance of the College facilities; fundraising efforts; the running of the Grammar School; the rate of board for students; and the continual hiring and firing of stewards. Perhaps the most frequent topic of discussion in the early records is the state of the College's finances.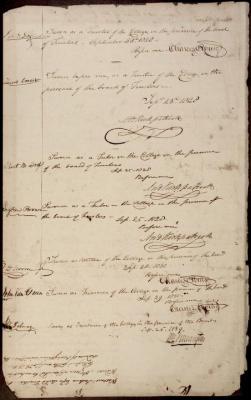 We hope to continue to digitize Trustee minutes as well other important records of the University in the coming years.