By: Q Miceli '12
A year ago, after the introductory slideshow at the She Roars Conference for female Princeton graduates and students, various audience members asked President Shirley Tilghman if there was a museum or other exhibit documenting the history of women at Princeton. I remember President Tilghman directing the conference participants to Mudd Library if they were interested in learning more about the history of coeducation at Princeton. Mudd has featured an exhibit this year called "She Flourishes: Chapters in the History of Princeton Women," However, Wikipedia articles about Princeton women created using University archives resources would enhance the online accessibility of this information, while ensuring its reliability.
Enter the idea of hosting another Wikipedia Edit-a-thon at Mudd, this time on the theme of Women at Princeton. Wikimedia Community Fellow Sarah Stierch's recent interview on CBC Radio 2, in which she discussed the Wikipedia gender gap and the fates of articles about women in academia, inspired me to organize this even to highlight the contributions women have made to Princeton as an institution and to help close the Wikipedia gender gap.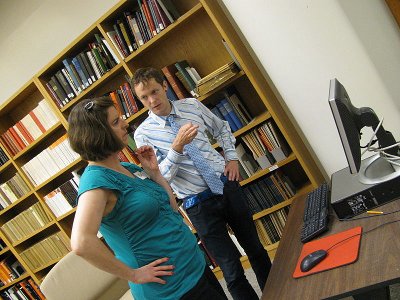 With help from members of the Wikimedia of NYC chapter, new Wikipedia editors teamed up with experienced Wikipedians in order to research and create articles for the history of women at Princeton, Coeducation at Princeton, and a few notable faculty and staff members. By the end of the day, we had drafts of articles in a few different users' sandboxes on Wikipedia and an article on coeducation that is ready for expansion.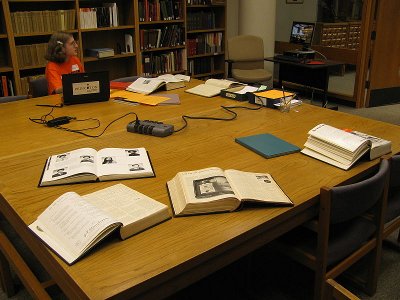 Sophomore Anna Kornfeld Simpson wins a gold star for using the most books in the reference room while researching women engineers at Princeton!
By the numbers, we had:
*Total participants: 15
*Princeton students: 4
*Usernames created: 5
Article Creations
*Coeducation at Princeton University
*Karin Trainer
*History of Women at Princeton University
*Margot Canaday
Article Expansions
*Elaine Pagels
*Evelyn College for Women
*Addition of the first editrix of The Daily Princetonian, Anne C. Mackay-Smith '80 and the first woman business manager, Judy E. Piper '76
Wikimedia Commons Category
*http://commons.wikimedia.org/wiki/Category:Women_at_Princeton_editathon
We invite you to keep the momentum going by checking the meetup page, choosing a topic, and contributing your time and article-writing talent.
Check in with us on Twitter @muddlibrary and Facebook